SHIPPING INFORMATION
Please note we ship on Monday and Tuesday for delivery by Friday.
Just a reminder we go by SHIP DATES when placing your order, NOT DELIVER DATES. Allow 2 to 3 business days for delivery.
For actual days in transit see Delivery Times map.
PLEASE SHIP EARLY, your Holiday Ham is shipped frozen. If you plan on serving your Holiday Ham later, keep frozen and allow 2 to 3 days to thaw in your refrigerator before serving at room temperature.
You can choose which day you want each item to ship when you load it in your shopping cart. (Note, once in your shopping cart you can not change the date unless you delete the item and reorder it with a different date of your choosing.) We ship via FedEx ground with delivery 1-3 business days after shipping. Due to the perishable nature of our products, they are shipped frozen.
We ship from the heartland of America to your doorstep via FedEx ground shipping. See the map to determine how many days your package will be in transit or check the FedEx official estimate. Note the days calculated for in transit DO NOT include weekends or holidays, or the actual ship date.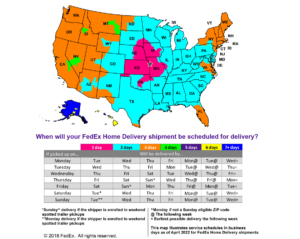 DELIVERY INFORMATION
All orders are shipped as "DRIVER RELEASE". This means the package will be delivered to the recipient address with no signature required. (Except at apartments where a signature is required but may be left in the office.) Packages can be left at any exterior door location. Please be sure to alert the recipient that a perishable gift will be delivered to them. For actual Delivery day click here Delivery Times map to see how many business days after shipping your order will arrive.
SERVING INSTRUCTIONS
Upon receiving, remove it from the box and outside packaging material leaving it within the heavy-duty freezer bag and gold foil it arrives in. If you do not plan to serve it within the next few days, immediately put it in the freezer, keeping it again in the same foil and freezer wrap packaging. Otherwise put it in the refrigerator and enjoy in the next few days. Remember unless freezing your ham or turkey should be consumed within 7-10 days. For maximum freshness and flavor, your ham or turkey should be used within 45-60 days of freezing. Allow three days to thaw in the refrigerator before serving at room temperature. 
Serving Sizes:
6 lbs. (serves 8-12)
7 lbs. (serves 10-14)
8 lbs. (serves 12-16)
9 lbs. (serves 14-18)
10 lbs. (serves 18-22)
HOLIDAY SHIPPING
Thanksgiving 2022
Place your order by November 18, 2022 for delivery by Wednesday, November 23. 
Christmas 2022 
Place your order and ship date by December 19 for arrival before Christmas. 
Just a reminder we go by SHIP DATES when placing your order, NOT DELIVER DATES.  Allow 2 to 3 business days for delivery.
For actual days in transit see Delivery Times map.
ADDRESSES
Be sure to provide a complete and current address including apartment or suite numbers and zip codes. We cannot ship to P.O. Boxes, APO or FPO addresses.
Include a telephone number and/or e-mail address for a gift recipient. The e-mail address allows you to alert your recipient that a perishable package has been shipped to them.
Note, Holiday Ham Co. cannot be responsible for incorrect addresses or gift recipients not being home at the time of delivery.
ALASKA, HAWAII AND INTERNATIONAL SHIPPING
Unfortunately, we will not ship outside of the contiguous United States due to the perishable nature of our products. We believe in offering the best possible product; however, we would be unable to guarantee the best quality when shipping overseas.
PACKAGING
Holiday hams and turkeys are all shipped frozen wrapped in a heavy gold foil and placed in a heavy-duty freezer bag, for your convenience. Upon receipt, this is what would be placed in the refrigerator or freezer depending on when you are serving it.
For shipping, they are then wrapped in a padded insulation sleeve and placed in a Styrofoam cooler and then gift boxed. Instructions and serving tips are included in each package.
GIFT MESSAGE
Your specific greeting up to 28 characters each will appear on the shipping label. At checkout enter your own personalized message. Note, if no message is inserted a standard message of "From and your name" will be used. A message of any size may be included if the recipient's e-mail address is provided. FedEx will only use any e-mail address provided to send your message and to provide notification of delivery. The message is sent to them on the day it is shipped so that they may anticipate receipt.
TRACKING MY SHIPMENT
On the day your package is shipped FedEx will e-mail the tracking number of your package to the e-mail address or addresses you provided on your shipping order